CANIAS ERP Success Story of Bak Ambalaj, A Leading Name in Packaging Industry
August 2006 - Turkey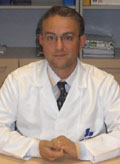 "Yes, CANIAS has achieved a successful implementation."
"After starting to use CANIAS ERP, a lot has changed in the way we do business. Before starting to use CANIAS, when we were in the market for an ERP system back in 2003, we met with several firms but were unable to find a system that would provide us with an efficient solution. Then we received word from Istanbul with the news of a promising company with technology from Germany.

At first, frankly, I have doubt. Then we met the IAS team and they described at length their company and their product. Then I remember saying 'Yes, CANIAS has achieved a successful implementation.'"
"It's a common conception that ERP use in the packaging industry is impractical, but CANIAS has a distinct feature."
"In the packaging business, we are not selling the brand names whose packaging we produce. We are in fact selling the proof film and the ink. Due to the unique aspects of our business, it is perceived that ERP systems will not be a good fit for this industry and that these systems may in fact prove impractical. Indeed, this is how we used to think. This was also the reason why, during the ERP selection stage, we were not able to decide on a specific vendor. However, CANIAS ERP proved to have a very distinct feature: its incredible flexibility. During the implementation phase, we determined the areas which needed to be tailored to fit the business processes of Bak Ambalaj, and the required changes were implemented with ease."
"With CANIAS ERP, brand new business concepts entered our lives."
"With CANIAS ERP, brand new business concepts entered our lives. To give an example: in the past, colleagues asked for 'specs' - that is, they were asking for the production parameters, such as the types and amounts of ink to be used, and the production steps where those types of ink would be employed. What they were in fact referring to was the product tree. We did use a software system prior to converting to CANIAS ERP, but the concept of a product tree did not exist within the enterprise. We instead had a list of material inputs. But that was not a product tree. With CANIAS, such concepts as product tree and route information became ingrained in our company; concepts that are standards now, but that were new to us in the beginning.

As a further example: At the start of a production run, while specifying the product trees, we go through a question and answer exercise:
'How much paint will you be using?'
'We don't know; let's just put down 10 kgs.'
'Why 10 kgs?'
'Let's specify it as such; the operators will adjust it anyways.'
Then you go to the operator:
'How much ink do you use?'
'Two cups of this type, and three cups of that.'
As a result of working with such concepts as product trees and route information which are at the heart of the CANIAS ERP system, the proper input of basic data into the system has imposed a substantial organization on our processes."
"The business process analysis is frustrating but an absolute necessity."
In our case the business process analysis was very frustrating. In the packaging industry, it takes a minimum of six months to understand the business. During these six months you are constantly questioning everyone about what they are doing in the enterprise. Add to that the resistance to change that is experienced, and the task becomes even tougher. Nobody wants to describe what they know. Sometimes you need to get into their meetings and confuse them. Only then do they say "You haven't understood the process", and start to tell you how it is really done.

For example, the operation of the packaging department is well understood. It takes the product, inserts it inside the box, sticks its label and sends it on its way. That's all there is to the analysis of its business process. When you further question the packaging department, they mention that they have a different process for each customer. Based on this we put into the system different definitions for each customer. We then ask them to list the material and costs associated with packaging. They reply that they are unable to respond due to their heavy work load. As a result, we prepare a report indicating that the packaging work load can be managed by a single person. We show the report to the personnel who have been complaining about their work load. We tell them that the only way the report can be fixed is if they correctly respond to our request for an accurate material and cost estimate for the packaging department.

While the analysis activity can be frustrating, it remains at the heart of the entire process.

One of the first tasks to be accomplished at the start of the ERP rollout is the transfer of data stored in legacy systems into the new system. When this is performed manually, it is a very labor-intensive and time-consuming task. Electronic data transfer, however, allows data in the legacy systems to be transferred directly to the new system. Additionally, the large number of databases that CANIAS ERP supports makes this tasks easier yet."
"We decided on the project metrics and set performance goals."
"Earlier I mentioned that we do not sell the brand names but rather the proof film and the ink. Our foreign competitors in the packaging business calculate production costs all the way down to the weight of the glue used. When it was realized that the same can be accomplished using CANIAS ERP, the management put pressure on the staff to implement it. The use of CANIAS was made part of an individual's personal performance criteria. In a performance evaluation, 60% of the appraisal is based on effective use of CANIAS. If an individual contributes to the use of CANIAS, he or she gets high marks; if the individual is showing resistance to its use, that person gets lower marks. I believe this to be one of the main factors in the success of our ERP implementation. No ERP system can succeed without accompanying performance criteria for its use by personnel.

In a study we performed at our Bekbak facility, we observed that neither the expendables nor the job orders were being specified correctly; the numbers were being made up. We were trying to establish balance sheets, while at the same time we were seeing such errors as 800 tons being specified instead of 8 kgs. While this may sound farfetched, it was actually taking place. We realized we could not deal with the problem so we decided to make it a criteria for evaluating facility performance. In order to report on efficiency results, you needed a report which would take too long to be prepared manually. The report that was judged too difficult to develop took about two hours using CANIAS ERP. The facility staff realized they had been skipping the entry of certain job orders that were part of the business processes. This in turn affected performance. To give an example: let's say you have to use a special proof film in certain production run. Configuring that proof film requires special knowledge and its own equipment. In the past a job order may not have been specified for it. Not, the unit operator demands a job order as it affects his or her performance."
"Can inventory problems ever be resolved?"
"Inventory problems are resolved if you use intelligent software. For example, in the past, we had no idea what inventory the maintenance warehouse contained and where it was located. Now, however, the maintenance operators specify materials for job orders, whose costs we are able to track. This is really good progress.

We have about 650 job orders processed per month. On average about 25 to 30 job orders are placed daily. Behind these numbers there is a process: Each proof film has associated layers. If you are producing packaging for a bag, it calls for 4 layers. This means that you need to specify 4 different proof films on the job order. These are glued together and printed to form a single package. This calls for glue, ink, and proof film, which all need to be handled individually. You have to specify 80 different types of proof films for the operators. And all this must be completed within one day. At peak season, numbers are much higher than 80 or even 100. Then the daily processing exceeds 320 metric tons. The warehouse currently handles this work load with two or three personnel. The system is able to pinpoint the material down to its location on a specific shelf, where it can be found with ease."
"Cost Analysis is now an easy task."
"We really have made a huge progress. As you know, it is said that businesses can only make healthy forecasts by knowing their costs. Before CANIAS ERP, we were somewhat in the dark. We lacked technology and had a lot of data. The staff were basing their production decisions on the law of averages: Based on the past usage of materials and the resulting product, they made go-no go decisions. One person worked on all job orders for 15 days, and came up with the cost data. In the past, a form called 'unit cost' was used. It was completed by the sales department where they specified costs for such data as expenses and the proof films to be used, based on what they believed were to be the costs. Since you did not track monthly purchases and periodic increases, the end of period cost analysis made absolutely no sense. It wasn't clear what costs were being tracked and how.

Now we have access to cost data at the push of a button, and we do not have to spend extra time for it."
"Accounting features provided by international ERP vendors prove to be problematic in use."
"Thanks to CANIAS ERP, we have a distinct advantage against competitors when it comes to regulations. The Turkish regulations not only have unique requirements, but also need to be frequently updated. IAS does an excellent job of monitoring regulations and applying the changes.

Let me summarize our progress with respect to accounting: last month we had an inventory count of all of our material. We found no discrepancies. What was reported by the Inventory Management module was exactly what we had in stock. In the maintenance warehouse, there are 3,600 types of in-use items and 6,500 types of non-used items. Our inventory turnover rate is very low. You have to keep on hand such items as discs used in machinery. In the past, inventory verification was performed using stock count tables maintained manually. Now we have real-time inventory tracking using CANIAS."
"Accounting is becoming a department that does the auditing."
"This month, for the first time ever, we will be performing inventory count exclusively through the ERP system. We have set inventory levels very accurately at the proof film and ink warehouses. We have made tremendous progress in the proof film area. We have a sister company which produces print cylinders. In the past, they had cases of incorrect invoicing, which they then corrected by manually searching through invoices. They did not have a system to manually process 7,000 invoices. We now have invoice control system in place at that facility. Now we are able to determine costs for print cylinders. At close of month, the accounting department only performs an audit. Accounting is really becoming an auditing department. And this is how it should be."
"Cylinders are now under invoice control."
"The way our warehouse works is somewhat different than how a warehouse is used in other businesses. For one thing, in the case of an enterprise of this size, you run into cases where capacity overruns take place. For example, you may have 20,000 unused cylinders, and these will show up in the report as such. The warehouse each day processes 80 to 100 cylinders, sends them out, and receives another batch of 80 to 100, and further delivers cylinders for internal use. It takes 15 to 20 days for the processing of a cylinder, which is not a simple task. This is now all tracked through CANIAS. A team of four personnel manages this process. We did an initial inventory count, which took us three months to accomplish. Once a periodic count is taken, the task becomes one of tracking movements of cylinders in a correct manner. This requires constant and daily attention. The cylinder warehouse has an impact on costs. Cylinders, once only inventory items, are now under invoice control. This is serious progress."
"The production module is operating flawlessly."
"Our first impression of CANIAS ERP was that the production module was its best feature. Now we understand that all modules are excellent, but the production module is flawless. Therefore we have not had major difficulties. We did have customizations made to the production module. As an example, one must allow for waste in the packaging production, and we resolved this issue. In case of the TPM implementation, CANIAS became the database for that system. When improvements are to be performed, each machine is checked for the duration of down-time that has been experienced and the amount of production loss realized. In such cases, the system helps us decide for new equipment that we need to invest in. CANIAS has become the data source for the entire TPM system. And that was the intention from the start. Your software should be able to achieve such uses.

We currently collect production data through our line operators. They monitor the information. The production area truly operates in the manner that we were hoping for. We are able to control everything from top to bottom, such as production output, waste, and the cross-controls. Operation errors are not possible using CANIAS."
"A consolidated budget is our ultimate goal."
Bak Ambalaj is pulling the lead in terms of implementing ERP across sister companies within the Bakioglu Holding. They have started implementation beginning of this year. When implementations are complete across the board, we will be operating from a single consolidated budget. In the past we used to look at different places for facts and figures in a mad chase; now all sister companies will all be using the same database to look at the data and produce reports. This is our goal.

We do not prepare our budget based on the customer brands for which we do printing. We do budgeting based on types of input material based on similar products that use the same proof film. This is not an easy task. The budget has been prepared and finalized. Again, this is not a simple task. There are 300 types of listed material in the budget, which really corresponds to 10,000 individual items. Each of these need to have their product trees correctly specified; for example, the corresponding glue, and the associated operation need to be specified correctly. In CANIAS you only need to specify the sales budget; it does the rest automatically. If your product tree and route information is valid, CANIAS takes care of the budgeting.

We have other goals as well. One of these is a system of reviews for suppliers. An online-interview will be established for suppliers. We will implement auditing of suppliers. Another goal is to have variation margins that can be specified per product, which some of our customers have been asking for. Originally CANIAS ERP allowed us to store variation margins on a customer basis. But each customer can have differing margins - 5% for one product type, and 8% for another. We were able to change the system so that the margins are maintained on a product basis. The system takes care of the rest. Production planning, another goal, is in its final stages. And preparatory work for capacity planning has been completed.

While we were busy with all of this, CANIAS ERP came out with a new version. When we looked at CANIAS ERP 602, the latest version, we realized that it already implements all of our future needs. IAS, of course, is continually improving the product. They work with their customers from different industries, implement what they observe and then turn around and give it all back to us in terms of new features. As I said in the beginning, both the professional IAS team and the CANIAS ERP version 602, CANIAS has achieved a successful implementation."


About Bak Ambalaj:
Bak Ambalaj was founded in 1973 as a company producing printed and non-printed paper bags, operating out of a 2,000 m2 facility. Within three years, Bak Ambalaj expanded its equipment plant and started servicing packaged pasta industry. It continued its expansion by acquiring clients in the bulk and snack foods, chocolate, confectionery, frozen deserts, beverage, frozen foods, baked goods and fresh produce markets. It also caters to the needs of the hygiene and chemical products customers. Bak Ambalaj, with its professional team, is customer focused, and monitors the changing needs of the marketplace, providing fast, reliable and high quality goods and services.

Currently Bak Ambalaj operates within the Izmir Ataturk Industrial Park, in a facility encompassing 22,000 m2, 16,500 m2 of which is closed space. The company maintains its position by employing leading edge technology and continually improving its assets. Its capabilities include 5 rotogravure presses with in-line lamination and cold seal features, allowing for 7 to 10 color printing and 4 to 8 color flexo printing, as well as 3 lamination, 10 slotting, and 4 micro-perforation equipment. Bak Ambalaj provides its customers with flexible packaging solutions for food and hygiene products that are ready for use in automated packaging equipment, packaged as rolls and bags.

Bak Ambalaj has made quality management and continuous improvement parts of its corporate culture. It has been receiving ISO 9002 certification from Bureau Veritas since 1996, HACCP and Pest Control certification from AIB (American Institute of Baking) since 1997, as well as certification for Turkish Food Regulation.

With its flexible production structure, horizontal and vertical integration with its sister companies, experienced and expert staff, and an annual production volume exceeding 15,000 metric tons, Bak Ambalaj services such diverse markets as food, hygiene, beverage and audio and video magnetic tape packaging. Its client reference list exceeds 200 companies in domestic and international markets, including such giants as Nestle, United Biscuits, Unilever, Group Danone, Coca-Cola, Dr. Oetker, Eti, Ulker, Griesson, and Unichips. Since 1998, Bak Ambalaj has been trading at the IMKB (Istanbul Stock Exchange) as a public company, and has been growing at a steady pace.

Bak Ambalaj is attaining its vision of becoming a world leader in the flexible packaging goods industry through its competitive advantages and focus on high standards of quality, and is continuously improving itself based on its foundation of values.