Successful efforts produce successful results.
November 2006 - Turkey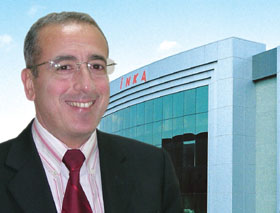 INKA Fixing was founded in 1986 and started producing construction assembly elements in 1990. Starting in 1995, it began exporting of clamps, anchors and hanging systems. Its export volume steadily increased, thanks to the company's focus on product development and quality assurance. INKA Fixing currently exports 70% of its production. General Manager Haluk Arican is one of the names behind INKA's success, and in our interview, he discussed how he helped start INKA and the developments that have taken place since its start. We feel this story will be of interest to enterprising entrepreneurs.

With its technology infrastructure, focus on customer satisfaction, the quality and the diversity of its products, its sensitivity to protection of the environment and its vision for continuous improvement, INKA Fixing has been a leader in the construction assembly elements industry in Turkey since 1990. How did you achieve this, and how would you appraise INKA's current standing?

The place where I first started working was a forging and machining "plant". I realized soon enough that this was not a plant but rather a large shop. Therefore, by working there, I was not going to be able to fulfill my aspirations for working at a real plant. That was back in 1982. At that time computers were only beginning to be utilized. There was a group of us, which included Kerem Bey who is still one of my partners today, who were interested in computers and wanted to make use of actual data in production. The people in the plant, on the other hand, approached planning with anecdotal statements such as "we are doing really well this month". The profitability and productivity figures corresponding to our production capacity, the plant and the investment, were not known. This is the environment that I started in. The plant manager was an individual who had a vision. (In fact, he still consults for us.) He had been educated in Germany, knew well how the industry functioned there, and tried very hard to implement the same systems in his job in Turkey. The staff at the plant, on the other hand, were well-meaning but had been promoted beyond their abilities, and worse, they were not aware of this fact. They were doing their best to preserve their jobs, and managers were watching out for each other. But no one was watching the numbers. New investments had been made, but due to lack of proper planning, the organization was in chaos. They had engaged a Canadian consulting firm to sort things out. That firm advised them to institutionalize their organization, and to hire new engineers. They hired 10 to 15 new engineers. When these new engineers, fresh out of school, clashed with those whose only objective was to maintain their jobs, things got a little messy. I was one of those newly hired engineers. We simply wanted to approach the situation from an engineering point of view, and tried to express the results scientifically.

For the first time, we started collecting such measurements as the productivity of individual machinery and actual production durations. Of course, the numbers we got were terrible. And we clashed with the old-line management. I proposed forming a study group, and a study group was established, a direct result of the clashes we had. Otherwise, the processes were not becoming visible. You could not figure out where problems existed, because you could not observe the processes. I had a representative from each department in the company present in the study group. We performed then what is now called a SWOT analysis, only at the time we didn't know it was called that. I had declared that, within a period of 3 months, I would transform the plant to what it ought to be, and the management supported me. Within 3 months, we attempted to perform this feat, following a plan we had devised. However, during these 3 months, the production volume steadily decreased. Of course, the old-line management was looking out for each other, and there were a lot of corporate politics that transpired against us during this period. At the end of the 3 month period, I was taken off the job, and was replaced by another person. Production volume rose again within a few months, and we were deemed unsuccessful. I did not take this well.

We can then say that this incident motivated you in your entrepreneurial drive.

Turkey has a very dynamic workforce but this workforce is completely outside of the system and the organizational structure. Indeed, systems- and organizational-thinking are not well understood. Of course, this is rather troubling. I feel that we would be very successful if we can get this human potential included into a systems- and organizational thinking.

For example, at the plant where I worked, failure was always attributed to the blue-collar workforce. But in another country, the same blue-collar person gets elected employee of the year. How you approach people is very important, and you have to know that people are a valuable asset. When there is an obvious mistake made, the blame always rests with the poor worker. For managers who are trying not to lose their jobs, it's always convenient to fault the line workers. But instead, you should try and get to the root cause of the problem. This is why implementing a systems-approach had always been in my mind.

During the hiring process back then, they were only concerned about such personal attributes as what school the person graduated from and what languages he/she spoke. The people skills were not considered. So I told everyone that I would be founding a company staffed with elementary school graduates, and that it would still be successful. In 1986, I found INKA. I felt that we had to have high-volume of production so that we could use automation and reap its benefits. That is how we got into our current business. We always pushed for a systems approach where individuals were valued. We were never concerned with the mistakes committed by individuals. We focused on the faults in the system.

Let's go back to the days prior to your use of CANIAS ERP. What were some of the problems you encountered? What made you start seeking an ERP system?

After founding INKA, we had to install a system in place. We tried using several different software programs back then. We first started with a software that had MRP capability but little else. In 1996, we invested in MRP while we were a company of only 60 people. As I mentioned, what was important for us was having a system in place. We spent a lot of money on computers and the associated infrastructure. We knew even then that the future rested with computers and technology. That was an accurate forecast, and still holds valid today. Those who have not made this type of investment (in technology) will not be able to succeed. The first software we used did not meet our expectations. Then we wrote our own costing program. Because the company had started exporting in 1994, costs were very important for us. Foreign customers asked about our labor and raw materials costs. I wrote a costing program using Excel, but in time it reached a size that was ungainly large. You would make a small change, and it would affect the entire program. It was hard to manage and update.

Then we purchased a second program, which was a somewhat random pick. Everyone had an accounting software they used, but not all had software to manage their production. Controlling production is actually more important than managing money. At that time we had both accounting and production software that we used. You had to enter orders in one program, and then you had to turn around and transfer them to the other program. Of course this caused us a lot of headache. In the meantime, our accounting software was constantly crashing. We spent time trying to upgrade it, but that caused severe backlog of jobs to accumulate. We then started using a third system, trying to implement costing and also tie in purchase orders into the overall system. That system actually contained a rudimentary implementation of integration across different departments. We spent a lot of time on that system. That system allowed us to gain the necessary experience. For the next few years, we made do with that system.

We decided that we were not getting anywhere with such piecemeal solutions. Since we knew what we wanted, we attempted to provide our own solution, and set up a software development company. But we realized that we were making a mistake, so we started back on our search for an ERP solution.

Seems that you have been through a frustrating process, but have gained invaluable experience on the way. Please comment on the final stage of the ERP product selection where CANIAS ERP was a participant.

There were two vendors that convinced us that they would be able to meet our needs. One of them was IAS. The other vendor was basically saying that they would give us the software, assign us a single consultant, and that we would be on our own afterwards. In the end, the vendor and product that fully met our requirements were IAS and CANIAS.

What were the specific reasons you decided on IAS and CANIAS ERP?

The primary reason was the comprehension displayed by the IAS team that this was not a simple software product sale, but rather an implementation process. CANIAS also differed from others in that its solution is not based on the financial management side of the business; that is, its solution is not accounting-based. Since financial management, inflation management, cash and accounts receivable are highly visible areas in an organization, most other products tend to offer solutions that are focused on the accounting side of the business. In reality, the processes being automated are those that are based on production and costing. This is the main reason why other products fail, and this is what I discerned as the most important differentiating factor of CANIAS ERP. CANIAS has its focus on production and costing. This is its most important characteristic.

How is CANIAS contributing to your business?

In order to manage an industrialized population or an industrial organization, it is important to have an industrial mind-set. This is what you come across when you examine and analyze advanced industrialized countries. We (in Turkey) are trying to re-invent the wheel. This country has always been driven by finance, and pushed in turn to perform manufacturing. In other countries, on the other hand, the financial institutions have only been set up to support the manufacturing that is being undertaken.

In this sense, the use of CANIAS has contributed a lot to our organization. Of course, when you have such a tool to implement the ideas you have been dreaming of, you also get to see the holes in your plans. Otherwise, without the use of a tool, you tend to think that your solution is complete. But when you are using a software system for the implementation, you see that you have a number of issues that you have failed to address. This is really important. You do not otherwise have a chance to locate the blind spots; it's too easy to think that either the blind spots do not exist, or that they have been addressed.

We used the ERP system to set up our corporate processes. When you link together the processes using the ERP software, the corporate systems are then automatically set up. There may already be some amount of process in place, but with the ERP system, you get a chance to locate the blind spots you may have. Software systems do not allow for mistakes. Otherwise, if you perform your corporate processes manually, you do not become aware of those cases where someone may circumvent your process down the line. When it's all placed into the ERP system, you get to see the blind spots, processes with loose ends, and anything else that has been left undefined.

We currently have an excellent MRP configuration. We demo the system to our customers from abroad who come to visit our plant. All of our customers and visitors really appreciate the system. We are now much better at our forecasting than our customers. In the past, when a company from Switzerland or Germany would place an order, we tended to think that they would be pretty good in terms of the planning they did. This is how we used to think, up until recently. With CANIAS ERP, we became more confident of our planning and management activities, and started analyzing the data we get from our customers. We realized that they were making some pretty big mistakes. In one case, we had a major conflict with one of our customers, but when they came and examined our ERP system, they accepted that the planning mistake was on their end.

In terms of ERP software technology and the effective use of ERP systems, we are working with the best vendors in Europe, and we are actually at a much better place than those firms. They are now learning from us.

When we review your goals, we see that you want to be the best in your sector. Can we say that CANIAS ERP has accelerated your efforts?

We are already the leader in our industry in Turkey. We have a distinct advantage abroad as well. No competitor in Europe comes close to our capabilities. We have a customer in Germany that does its purchasing throughout the world, including China, and we are its top supplier. Of course, CANIAS contributed a lot to such success.

The first phase of your CANIAS ERP implementation is complete. You are actively using the MRP module and its reporting functionality. What has changed at INKA through this process?

First of all, as I also mentioned earlier, the "blind spots" of our organization became visible. People really became aware of the fact that in the production process, the departments are really the links of a chain, each one tied to the other. They realized how mistakes or delays affect the overall process, and this constitutes major progress for us. There were changes that have affected positively how fast we do business.

It also had a tremendous effect on the costs. We probably have between 12 and 13 thousand operation codes in production, and our planning staff is made up of two people. We also have a large variety of products, and manufacture about 1,500 distinct and finished items, where each item is composed of 4 or 5 components. It is a major accomplishment to be able to manage such a complex operation with a staff of only two. It is also a major plus to be able to monitor everything in real-time and discover any mix-ups immediately whenever they take place. In the past, when we had a fault in the system, it was a long and drawn-out process to discover where it happened, and fixing it was difficult and took a long time. Again in the past, the management as well focused on manufacturability. With CANIAS ERP in place, the management team can now focus on the task of actual business management. CANIAS was instrumental in getting us to recognize such concepts. And we expect to gain even more from our use of CANIAS in the future, in such areas as planning and controlling activities, determining performance, and managing the enterprise based on the value added attributes of activities. Without CANIAS, we did not have a chance to accomplish all of this.

Do you feel that another ERP product would have served you just as well, or do you feel that CANIAS ERP is distinctly different?

It could be that we may have been able to find another ERP system similar to CANIAS; however, I know that we would not be able to receive from another vendor the class of support we have been receiving from IAS. Support is as important as the product itself. The confidence of the IAS team in its product, their tenacity throughout the implementation process and their efforts, have all been critical. The sum total of an ERP implementation should not viewed as composed of the ERP system only; the system is only half the story. In fact, within 3 years, the ERP system will count for less than half.

ERP implementations are difficult and frustrating times for an organization. What difficulties did you face during your implementation?

Our conversion pace was very fast, and we finished the implementation without difficulties. It is significant to have had such a minor number of problems in such an accelerated schedule. Having problems are all too normal. In the past, our reactions to problems were not rapid, because we did not have all the figures. Now we are able to overcome problems with fine-tuning.

We had a major advantage in our ERP implementation, in that as a team, we believed in the success of the system. No one displayed resistance to the new system. In ERP implementations, it is of utmost importance that company management, from the top through all management teams, believe in the system that is being established. As an organization, we were all ready to perform the data transfer. We did not have to perform any duplicate work, and the employees did not face anything new. For workers, the newly rolled out changes are the most difficult aspect of the implementation. The employee thinks "I am already doing this job", and we are telling him/her to "not do it with your right hand, but use both hands". The employee is waiting for someone to complain so that he/she can voice a rejection as well. Such attitudes should now be a thing of the past. Confidence in the system is important, and it is important that the confidence is real, not forced.

What is the feature you are currently using in CANIAS ERP that is most significant for you?

A significant amount of our operations take place outside of our organization. Therefore we have a need to observe not only the processes internal to the organization, but also external processes. And they are not all located in one place. We have multiple locations where operations take place. In the past it was difficult to monitor them. So we devised an "Order Status Report". In that report we are able to easily track the location and production stage of any product.

When you manufacture such a large number of products as we are doing, you will have components shared among these products. About 70% of our products are those that have to be delivered on a daily basis. Therefore the processes have to be monitored with care. You need to be able to observe where each product is and what stage of production it is at. The report I mentioned provides us with this visibility. So now, we can spot where we will be having any delays in the process, and where to intervene when necessary. This is a major plus for a company as ours with such a wide range of products and large number of operations. You don't have a problem if you only have one or two operations. But when your business has 15 thousand product codes, the report becomes a major plus.

How do you evaluate where you are at currently? That is, how much progress have you made in terms of ERP use, where do you fall short, and what are goals?

In terms of ERP use, we have reached a point where we can use it to run the company. Now we are beginning to focus on management, instead of production. We may still be taking baby steps (in terms of ERP use for management), but I am confident that we will be making progress fast. Until recently we were more concerned with answering the questions "How can we realize this order? How can we deliver on time? Where are we most productive at? Where are we profitable? What is our inventory status and how can we make it better? How can we improve the productivity of our workforce? How can we decrease costs?" We didn't know where and how to intervene to solve the batch of problems. We have overcome all of this using CANIAS. Now, using CANIAS, we are able to move beyond the "how" and instead focus on management. In the following months, we may be utilizing the simulation feature of the ERP system.

What recommendations do you have for companies thinking about utilizing ERP systems? Do you have anything you would like to add?

I would say this: You absolutely need such software systems for your business to grow. Choosing an ERP systems should not be handled lightly. It's not vanity, but an essential element such as water. As an example, some may prefer tea, others may prefer coffee, but when it comes to water, no one cannot do without. If you are embarking on commercial activity, and would like to be successful, you need a good software system. You need to be able to control activities such as purchasing, sales, and production. The economy is no longer moving along at a leisurely pace, like it did in the past. Now it's taking wild swings. Competition has permeated all markets and industries. In such an environment, you need to have strong weapons in your hands.


---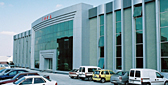 INKA Fixing was founded in 1986 and started producing construction assembly elements in 1990. Starting in 1995, it began exporting of clamps, anchors and hanging systems. Its export volume steadily increased, thanks to the company's focus on product development and quality assurance.

INKA's export volume has been steadily increasing, thanks to its focus of quality on its products and services, and its pricing policies. INKA currently makes 70% of its sales of construction assembly elements and related products to its customers abroad.

INKA operates out of its facilities in Pendik, Istanbul, in an enclosed space encompassing 9,500 m2, and carries out world-class manufacturing using its human capital, equipment and production capabilities as well as leading edge technology. With a storage capacity that can accommodate 3,000 pallets, it has the capability to provide products around-the-clock, on a non-stop basis.

INKA's wide product range includes components used in construction such as clamps, anchors, hanging systems and a wide assortment of related items.

INKA, which exports 70% of its production volume, took another step towards providing rapid and efficient services to its customers, and moved to locate its sales and marketing force at its plant facilities. INKA has 220 people, with an administrative team of 35 people, and an R&D team of 15 people performing design and molding activities. The plant facilities are located in Pendik, Istanbul, encompassing 9,500 m2 of enclosed space. A warehouse encompassing 1,500 m2 of space serves to provide a continuous supply of products.