CANIAS ERP is selected as the "Baden-Wuerttemberg State Champion" in prestigious Initiative Mittelstand Innovation Award for Excellence 2010 held within CeBIT 2010 in Germany.
March 2010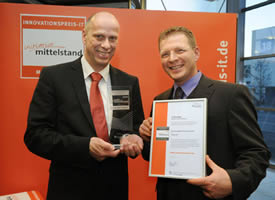 Taken into consideration that a jury of sixty scientists, experts, and journalists selected CANIAS ERP among more than 2000 applications, the importance of this award for IAS is even bigger.

IAS, the pioneer of Web-based ERP applications, presenting CANIAS ERP which is java based since 2000, has focused on continuous improvement on technology and innovation in order to offer seamless solutions on flexibility, openness, scalability and versatility.

IAS considers this award as a result of determined and disciplined work and as well as an element of motivation in its new technology investments and R & D innovations. In this sense, IAS is continuing to work for the new version of CANIAS ERP, will be launched in the coming months, to better respond both German and global market requirements.