Because there are many solutions that do not suit medium-sized businesses
September 2006 - Germany
Excellent range of functions in the standard solution
Highest scalability
Maximum flexibility and customisability
Innovative interoperability
Oustanding price-performance ratio
The best decision for IT-integration in medium-sized businesses - CANIAS ERP
Excellent all-in-one functionality
The modular structure of the solution allows for a stepwise implementation or a partial use of the software. Besides the classic ERP-components Material Management, Production Planning and Control and Finance (Asset Accounting and Cost Centers Accounting included) the customer has the possibility to integrate further comprehensive add-ons. These are: eCRM, Document Management, Balanced Scorecards, Service Management, Maintainance Management, Management Information System, EDI, Control Station, Quality Management System, Workflow Management and a fully integrated own groupware with e-mail client, agenda, task manager and short messenger.
Highest scalability
Customer references with 10 users up to corporate solutions with several hundred CC-users reflect the enormous scalability of the solution. CANIAS ERP does not only convince through the open, object oriented system architecture, but also through being able to rapidly activate and implement highest functionality and most complex company structures according to customer requirements. And the fact that almost any platform in database and operating system can be used means a high protection of investment.
A real multi-client capable "multi-site ERP"
A real multi-site control with the possibility to map as many legally autonomous companies you wish in one entity. Highest process integration is also guaranteed in intercompany transactions with individual control of organisational planning processes.
Maximum flexibility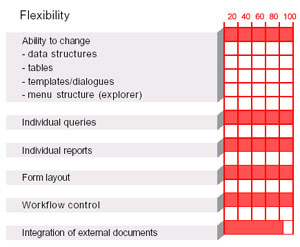 The big ERP-test 2006 showed: First place for CANIAS ERP in as far as flexibility is concerned. Thanks to the very open and most modern java-based system architecture CANIAS ERP offers highest adaptability at 100 % release capability, maximum individuality with queries and reports, the most flexibly adjustable workflows and of course maximum mobility thanks to internet capability. The basis for these performance features is amongst others the integrated object oriented development environment which is included in delivery as well as the unlimited access to the source code and the data warehouse of the software solution.
Collaborative workplace
The multi platform capability, the own integrated EDI-converter and the included own e-mail client make it possible that CANIAS ERP serves as central communication platform in your company. CANIAS ERP provides a high availability of all company data with consistent relationship management and all integrated electronic communicaton structures to customers, suppliers, partners and employees.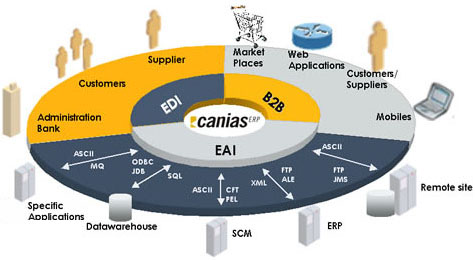 CANIAS ERP - Innovation meets ERP
Success and innovation are no coincidence - they result from the ability to create customer's benefit systematically. Innovative R&D projects in close cooperation with leading universities guarantee the competitiveness of our customers in future.