IAS presents CANIAS ERP at the Systems 2006
November 2006 - Germany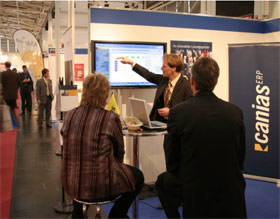 As in the previous years the Industrial Application Software GmbH exhibited at the fair and presented the in-house developed standard software CANIAS ERP. Again the comprehensive functionality, the ergonomic user interface and characteristics like platform independence, multi client capability, highest scalability while being release capable to 100 percent convinced the visitors - features based on the most modern and in the ERP-market leading technology. Besides the new and extended sector segmentation in variant production, MES and subconstruction work the attention was paid to the extraordinary flexibility, openness and adaptability of CANIAS ERP. Therefore it was no wonder that not only numerous users of the SAP-environment could be seen at the stand of IAS but also system and consulting houses.

IAS could notice a stronger than ever interest in the highly modern system architecture of CANIAS ERP. The high performance of the application via Internet at a relatively small hardware ressource impressed both users and experts. With a customary UMTS card the real-time processing of a company with several thousand sets of master data could be showed at the fair via Internet. Thus, mass data was modified and documents with as many items as desired were established in order to present the remarkably response time. But IAS could also offer excellent solutions and performances to topics like web-services, multi-site and web-security.

Even if the whole number of visitors fell short of IAS' and the operator's expectations, it was due to the quality of the contacts that IAS could be satisfied with the event. Owing to a decline of visitors of approximately ten percent compared to the last year the fair concept and the order of the halls will be reconsidered. An attractive alternative would of course be an exclusive ERP fair with a maximum of two halls. This would enable an objective comparison of the exhibited solutions whereas the size of the stand would be of minor importance and the ability to justify oneself to the visitors would be emphasised. A positive example is, for instance, the Topsoft in Switzerland which pursues a similar concept.