A higher than average size of orders assured in the first half of the year 2006...
August 2006 - IAS Germany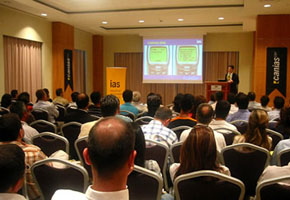 The reasons for the decision in favour of CANIAS ERP were evident and are not only for the medium-sized businesses of relevance: most modern technology, platform independence, highly integrated functionality, easy adaptability, guaranteed update capability even with complex adaptations and very favourably priced. CANIAS ERP has constantly raised the bar for the competitors. With CANIAS ERP we lower the Total Cost of Ownership over, for example, five years compared to our well-known competitors at a multiple. Acquisition cost, expenses for hardware, adaptations and interfaces are real cost drivers at many of our competitors.

The open system architecture allows our customers maximum flexibility in the integration of products of external providers. Even with a high number of users the system does not need a server farm like it is known from other providers. The integrated object oriented development environment as well as the supplied source code of the applications provide fastest adaptation and extension of the functionality. At the same time CANIAS ERP is consistently Internet capable. Thanks to the ingenious system technique and the chosen Java-based technology CANIAS ERP can be seen as the forerunner in the realisation of the real-time company.

It is not the size of the provider that decides over success but the benefit and the prospects are the decisive factors for the customer. IAS shows that thanks to the used technology it is possible to develop an extraordinarily powerful complete solution with a very straightforward development team (25-30 members). The much shorter development time (about 30 times faster than the competitors) guarantees low costs and therefore an assured steady company growth.

The result of a big ERP test that was conducted with regard to the CeBIT 2006 also confirms the efficiency of CANIAS ERP. The test scenario of an inter company process control with emphasis on Sales, Material Requirement Planning and Production that was carried out by GPS ( a society for testing of software) showed that CANIAS ERP could be ranked directly behind the big companies of this trade. In so far as flexibility and technology are concerned IAS could even take first place. If you now consider the revolutionarily favourable price as a further decision criterion, there is no alternative but to choose CANIAS ERP.

The IT-future of medium-sized businesses lies in the hands of CANIAS ERP.